HERE IS THE INFO: NOTE DIFFERENT LOCATION AND TIME

Join us for a special night of dancing with live tango from Folias Tango Quartet! And the great music of Bob 'il buenisimo' Lonigro =-) at the Phoenix Center

It will be fun because you are there!

LIVE MUSIC! From Folias Tango Quartet 10:30pm - 11:30pm

Also, please feel free to bring snacks and Non-alcoholic beverages to share.

DOOR:
Students $7.00/Everybody else $10.00
DJ: Bob 'il buenisimo' Lonigro
MILONGA: Saturday, November 12th, 2011

10:00pm - 2:00am
WHERE: Phoenix Center 220 S. Main St. (Above Elmo's) Ann Arbor, MI 48104

On Main St. between Washington St and Liberty St.


PARKING MAP: PARK HERE
GOOGLE MAP: VENUE IS HERE

Folias Tango Quartet performs original tango arrangements and compositions rooted in the golden era of tango music. They have performed across the United States for milongas touring with a variety of tango ensembles and teaching tango musicality classes. Band leaders Carmen Maret and Andrew Bergeron have performed tango music for milongas since 2003 and are also dance instructors and founders of the Grand Rapids Tango Community which they formed in 2005.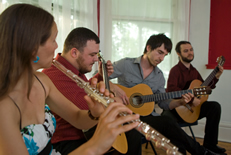 Folias Tango Quartet:

Carmen Maret, flute
Andrew Bergeron, guitar
Luke Galas, guitar
David Martin, guitar